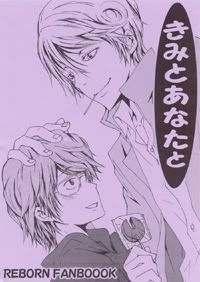 Title
:
Kimi to Anata to
(Spanner/Shoichi)
Author [Circle]
: Sasapanda [AmaChoco Shirushi]
Rating/Genre
: G/work-safe.
Summary
: Young Spanner and Shoichi meet at their first Robo-con (Robot Convention). It's all sweetness, with a side of shota.
Yay for my first Khr Reborn! Scanlation! This is apparently the first Supashou done by AmaChoco Shirushi, and she said she intends to do more. =D So far this is the second circle I've found that writes Supashou! Many thanks to
emmayori
for this fantastic find! There needs to be more Spanner/Shoichi love out there, and when there is,
Mebachiko!
will be there to scanlate it!